Grimsby Town Futsal U19s A' side took a giant leap towards winning the EFL North Championship for the 7th time in a row yesterday with a 4-2 win over bitter local rivals Scunthorpe United B'. The U19s A' team are now 6 points clear of the Iron B' in second place with Scunthorpe only having 2 games of the season left to play. This means Grimsby only need 1 point from their final 3 games to be crowned champions of the EFL North Championship 2019/20.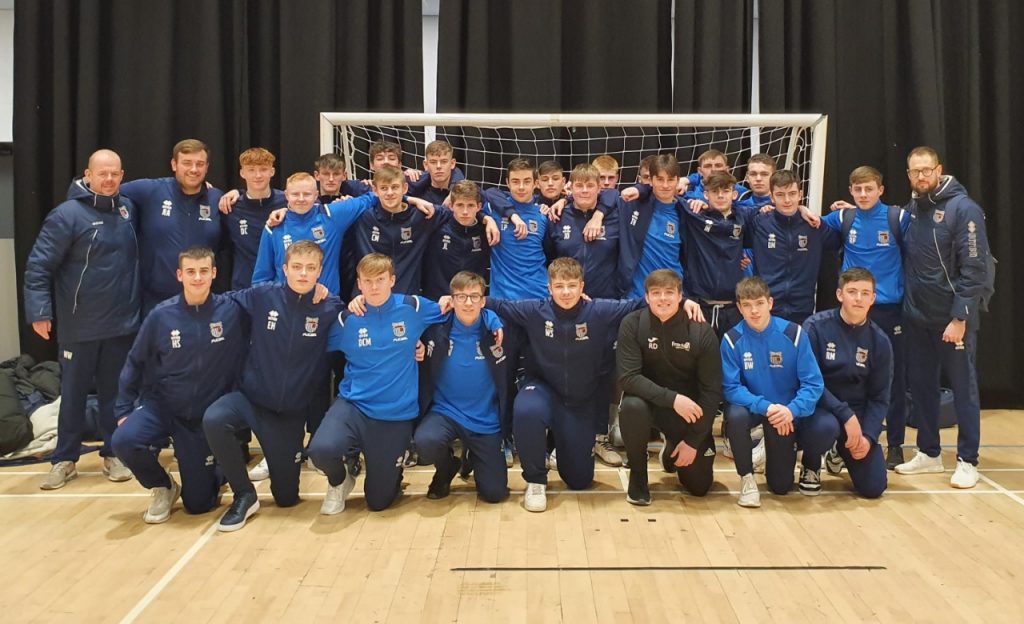 Grimsby Town B' also made progress towards qualifying for the National Championship playoffs firstly with a 5-5 draw with Scunthorpe United A' in the morning game, Pinchbeck scoring a 10 meter penalty in the dieing seconds of the game.
Grimsby B' then did their A' side a favor in the afternoon session beating a deflated (after the mornings loss to GTFC A') Iron B': 3-2. Again they left it late, this time a thunder rocket from Harrison saw them take maximum points.
In the other afternoon game Grimsby Town C' faced a revenge seeking Scunthorpe United A'. Town B's late penalty in the morning had caused ugly scenes and 2 players from the Iron were sent off after the final whistle meaning the were suspended for the next game so they fielded a weaker side. Town C took advantage of the situation and ended up winning comfortably 4-0. This win inadvertently allowed the B' side to leapfrog Scunthorpe A' into 3rd place.

U19 EFL North Championship 06/02/2020
The top 4 will qualify for EFL National Championship Playoffs; A Champions League style series at the end of the season made up from the other regional league top 4 finishers.
Match Reports (05/02/20)
Match Reports by Rob Dawley (Franklin College)
Grimsby Town B vs Scunthorpe United B
Grimsby Continued their good form into the second and final game of the day as they beat Scunthorpe United 3-2 in a riveting encounter.
It took town 4 minutes to take the lead as Lewis Peterson beat Jake Harris at his near post to make it 1-0 from a kick in taken by Liam Stynes. The introduction of Reece Pinchbeck early on has to be one of the shortest performances you will ever see, as Mark Westereby brought him on in the 6th minute he got himself booked and brought off after just 30 seconds.
This didn't sway the focus of Mark and Scotts troops as Bailey
Devine made it 2-0 town just before the break to which he made his feelings known with a passionate celebration with his teammates.
But there was time for more before half time, Scunthorpe then made it 2-1 just two minutes later with a free kick very similar to the one scored in the day's first game. The ball hit from the centre of the pitch made its way through everyone into the back of the net. Liam Stynes saw his shot rebound off the post in the 22nd minute as town continued to pepper the goal of Scunthorpe United's Jake Harris but it was Scunthorpe
themselves who equalised against the run of play with a good counter attack through the centre, making a tense last 12 minutes.
After a real dog fight in the last ten, including two great saves from Towns number 1 Connor Munday and a shot off the post from Dom Carver-Mill but it was Brandon Harrison who gave town what they had been
waiting for, a goal, and a vital one at that. His rocket of a shot flew straight past Jake Harris to make it 3-2 Grimsby with 4 minutes to go.
The final 4 minutes saw town defend well with Liam Stynes really getting stuck in when he needed too, despite a good late chance for Scunthorpe squandered Grimsby Town saw out the win and ended a very successful afternoon in Sheffield for the boys at GTSET with a solid 3-2 win.
Grimsby Town A vs Scunthorpe United Futsal B:
It was a perfect afternoon for GTSET today as they were unbeaten in all four of their games against their main rivals Scunthorpe United at Ponds Forge International Sports Centre in Sheffield.
Grimsby's A team beat Scunthorpe United's B team 4-2 in a game which saw Tyler Harding put Grimsby ahead after just 35 seconds with a simple finish at the back post after being set up by Bailey Wright. Scunthorpe United responded with a shot off the
post, after an unbelievable block from Ben Tuplin the ball fell to the feet of the Scunthorpe player who saw his shot deflected onto the post. Scunthorpe United's goalkeeper Jake Harris was on hand to make some fantastic saves to Deny Grimsby on many occasions but his run of acrobatic saves came to an end when Grimsby towns Bailey Wright shot across the keepers goal and put the ball into the top left on his stronger left boot.
It was another Left footed shot from Wright in the 6th minute that put town 2-0 up after the ball was played to him from a corner that he hit first time and finished well. Ben Tuplin then made it 3-0 with a goal that more or less told the story of the game in the sense that town where making the most of their set pieces and where finishing them off well as he powered the ball through the goalkeepers legs. Will Stapel was then lucky not to see red as he went in hard on one of the Scunthorpe united players on the half
way line,he received towns only yellow of this game for his overly strong challenge. Scunthorpe then pegged one back after a free kick in the centre of the pitch between edge of the area and the halfway line went through everyone including Grimsby's number 1 Josh Kirk.

Despite an exceptional defensive display from Ben Tuplin who blocked well and won the vast majority of his duals, Scunthorpe brought it back too 3-2 in the 21st minute with a firm drive from distance. Grimsby then responded 3 minutes later as Bailey Wright then did was he does best and blasted home from the left hand side on his left foot to give town a two goal advantage. The game ended 4-2 too Grimsby but that was definitely
due to an outstanding performance from Scunthorpes Jake Harris who saved a hefty scoreline with an infatic display in the sticks for his side.
#ThisTownsFutsal