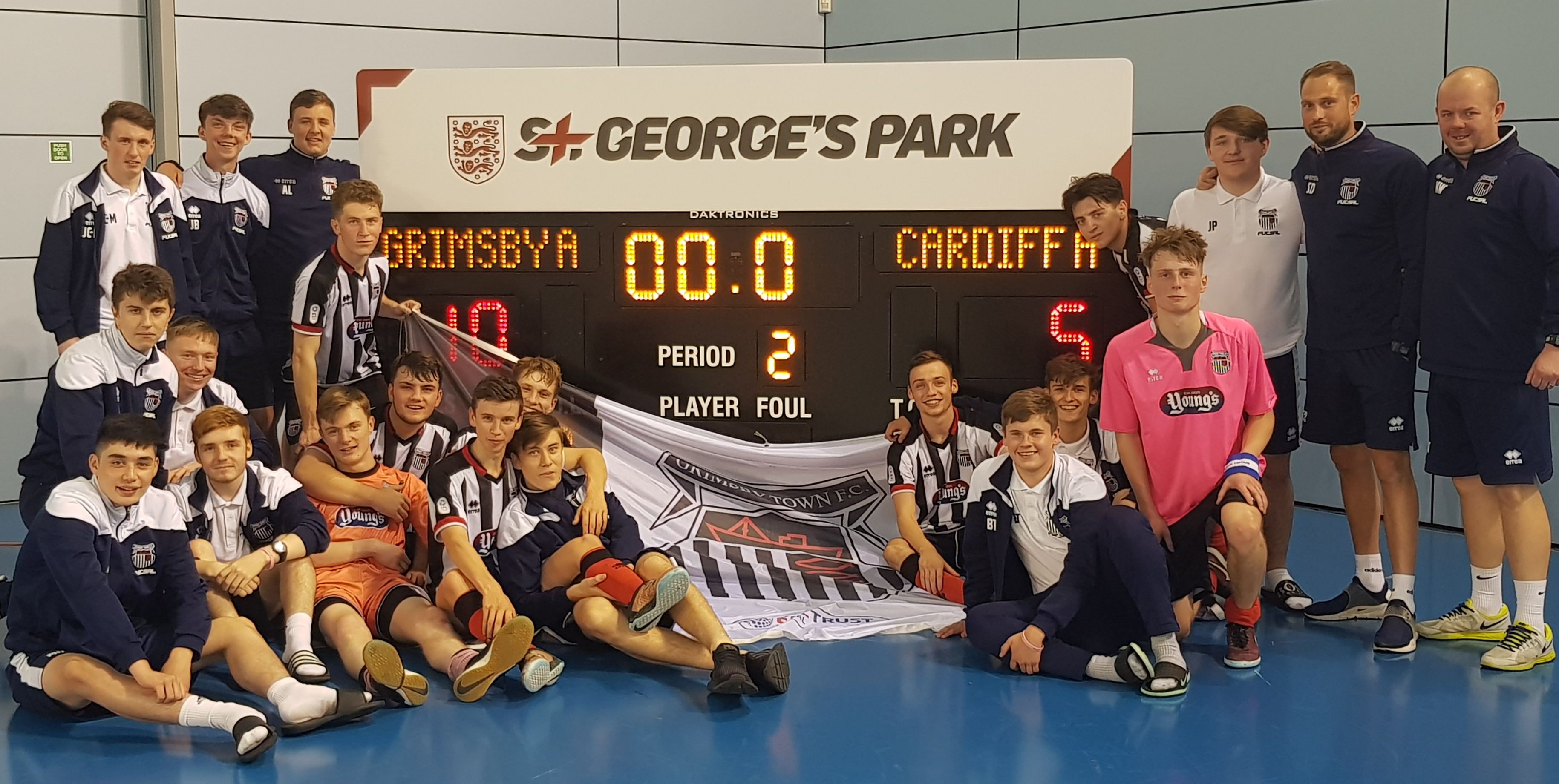 EFL Futsal U19 Championship National Finals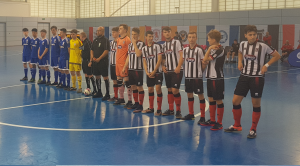 Grimsby Town Futsal U19s travelled to St Georges Park the base of England Futsal on the 7th of June for the climax of the 2017-18 season and the right to be crowned EFL Futsal U19 Championship National Winners- the pinnacle of youth futsal in the UK.
Qualification for the finals began back in November with 4 regional leagues (North, Midlands, South West and South East).  The top 4 from each league would then enter a Champions League style knockout playoff system until only 4 were left for the semi-finals.
Remarkably it was to be an all Grimsby semi-final as Grimsby Town A' and Grimsby Town B' had finished 1st and 2nd in the North Championship League and both won their last 16 and quarter final fixtures, meaning a Mariners' team was guaranteed a place in the final. Grimsby Town B', full of mostly first year scholars, pushed Town A' all the way however 4 late goals when they were pressing to get back in the game meant it was the be the A' team that made the final winning 7-1. The other semi-final saw Cardiff City beat Southampton 4-3 and also booking their place in the final.
EFL Futsal U19 Championship Final- Grimsby Town vs Cardiff City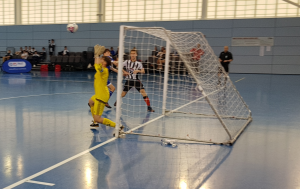 Cardiff and Grimsby had met twice this season before in the EFL Futsal National Cup, both winning one game each so the odds were finely balanced. Grimsby came out the blocks firing and raced into an early 3 goal lead! Firstly Meiwald played in Aldrich who squared it to Burke for a tap in. Shortly after Meiwald intercepted the ball deep in his half, drove into Cardiff's third before teeing up Burke who fired high into the net for his second. Meiwald made it 3-0 moments later striking into the top corner from a tight angle. The Blue Birds were shell shocked and were dealt another blow shortly after the third goal when their goalkeeper Bassett came out worse from a 5050 with Burke. He soldiered on with the no sub GK on the bench but was visible affected by the challenge. This rather slowed Grimsby's momentum for 10 minutes or so as the game became more even.
Cardiff, who regularly deploy the fly goalkeeper tactic, became more risky with it in a desperate attempt to get back in the game. This lead to a couple of open goal opportunities with Town intercepting the ball whilst the Cardiff keeper was high up the court. Burke cut out a pass and laid off Meiwald who lobbed it over the recovering defender from his own half.  In a similar move Meiwald intercepted drove forward and set up Aldrich who tapped into an empty net.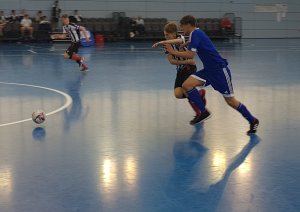 At 5-0 football fans would be forgiven for thinking the tie was over. However in Futsal things can change a lot quicker. Cardiff gave themselves a glimmer of hope before the break as Town had given away 5 fouls meaning one more would result a 10m penalty for every foul after. Grimsby's usual high press game relaxed with the fear of giving away a penalty, this allowed Cardiff more joy with the fly goalkeeper tactic and Rahman made it 5-1 from close range before Cardiff immediately won a 10m penalty which was dispatched by Newlad to make it 5-2.
The Mariners were rocking and Cardiff gained another penalty just before the half time buzzer but Denson in the goal was to deny the Blue Birds reducing the deficit to 2 goals with a great stop. This seem to boost the black and white's and a few phases of play later saw Usher glide past the Cardiff defence with some magical footwork to set up a 3v1 opportunity which was eventually dispatched emphatically by Burke to round off his hatrick and sending Town into the break 6-2.
The goal frenzy continued into the second half almost straight from kick off. Although the foul count had reset Cardiff received a 6m penalty for a foul in the area which was converted by Newlad to give Cardiff some hope at 6-3. The game finally settled down and 10 minutes passed on the stop clock before the next goal which would prove pivotal. Aldrich drove forward before been fouled, the officials played advantage and Usher tucked neatly high into the net to give Town a nice 4 goal cushion at 7-3.
Then the game went goal crazy again with around 6 minutes left on the clock. Cardiff made it 7-4 through Rowtley tapping in from close range off a set piece. Then Willetts responded by pouncing on a loose ball to fire into the roof of the net to make it 8-4. Again Cardiff were forced to adopt to ultra-attacking fly keeper tactic and Willetts took advantage of a break down in Cardiff possession and an empty net by rolling the ball in from the half way line to effectively end the tie at 9-4 with 4 minutes to go.  A minute later an almost identical goal made it 10-4 as Leo Kilday grabbed his first of the game rolling into an empty net from the edge of his own D'. Cardiff grabbed a late conciliation goal to make it 10-5 before Grimsby set the fly goalkeeper spoil tactic of their own to dominate possession and see the game out.
To full time buzzer went signalling the biggest prize of youth UK Futsal belonged to Grimsby. The final part an emphatic quadruple and a clean sweep of all U19 EFL Futsal trophies on offer this year.
The season of 2017-18:
EFL U19 Trust Futsal Super Cup Champions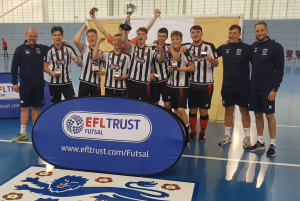 EFL U19 Futsal North Championship Winners
EFL U19 National Futsal Cup Champions
EFL U19 National Championship Winners
Highlights of the final can be found at: https://mycujoo.tv/video/gtset-futsal?id=19919
#WeAreFutsal #ThisTownKnows
You can apply to be a futsal scholar starting September 2018- visit the futsal scholarship section.