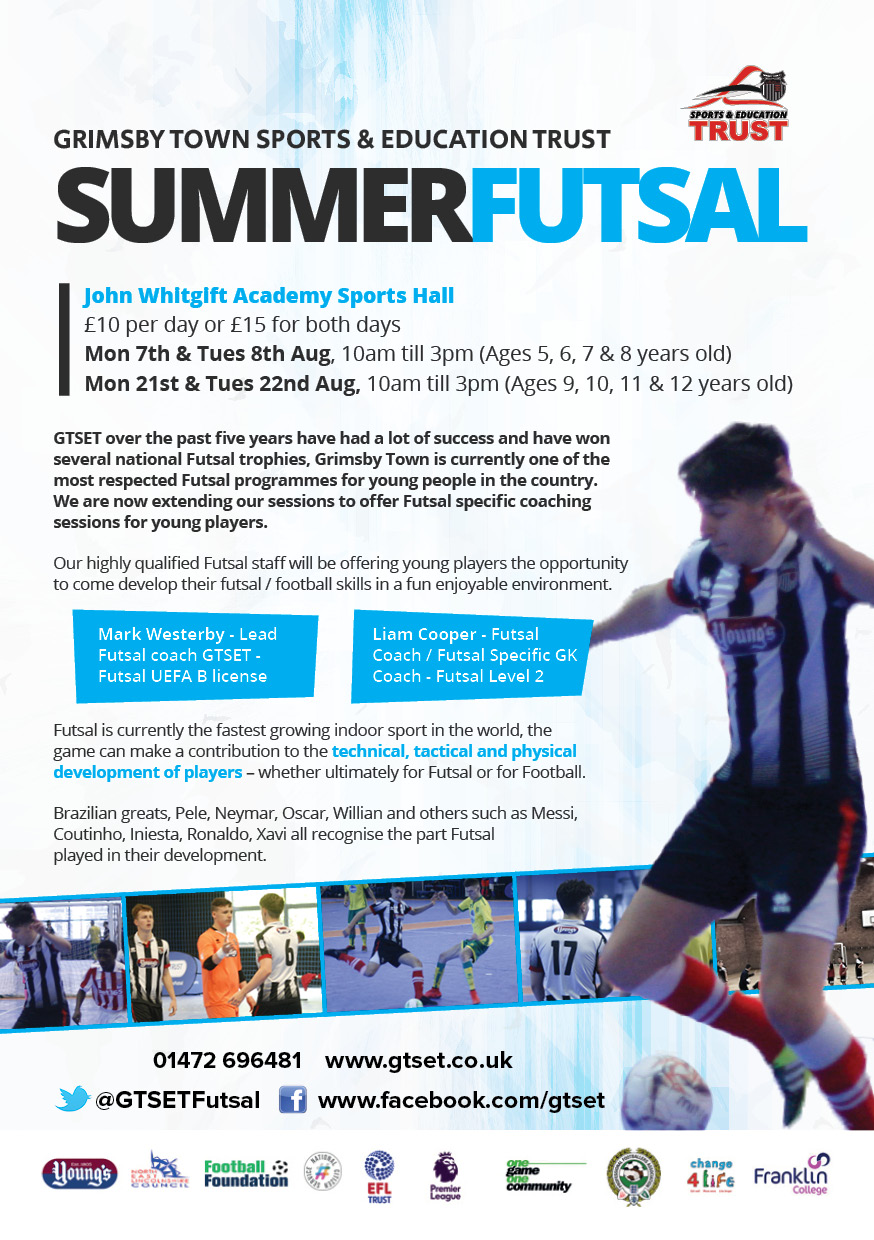 We are delighted to announce dates for our Summer Futsal courses! Please find all the information below:
John Whitgift Academy (Sports Hall) – Monday 7th & Tuesday 8th August – Ages 5, 6, 7 & 8
John Whitgift Academy (Sports Hall) – Monday 21st & Tuesday 22nd August – Ages 9, 10, 11 & 12
GTSET over the past five years have had a lot of success and have won several national Futsal trophies, Grimsby Town is currently one of the most respected Futsal programmes for young people in the country. We are now extending our sessions to offer Futsal specific coaching sessions for young players. 

Our highly qualified Futsal staff will be offering young players the opportunity to come develop their futsal / football skills in a fun enjoyable environment. 

Mark Westerby – Lead Futsal coach GTSET – Futsal UEFA B license
Liam Cooper – Futsal Coach / Futsal Specific GK Coach – Futsal Level 2

Futsal is currently the fastest growing indoor sport in the world, the game can make a contribution to the 
technical, tactical and physical 
development of players
– whether ultimately for Futsal or for Football.
Brazilian greats, Pele, Neymar, Oscar, Willian and others such as Messi, Coutinho, Iniesta, Ronaldo, Xavi all recognise the part Futsal played in their development.
Far more touches of the ball by all players and in all areas of the pitch
More challenges of 1v1, increased final third and penalty area entries 
More shots on goal and development of technical skills by goalkeepers 
Increased decision making opportunities 
More individual responsibility – all players must attack and defend  
Rolling subs create more participation opportunities