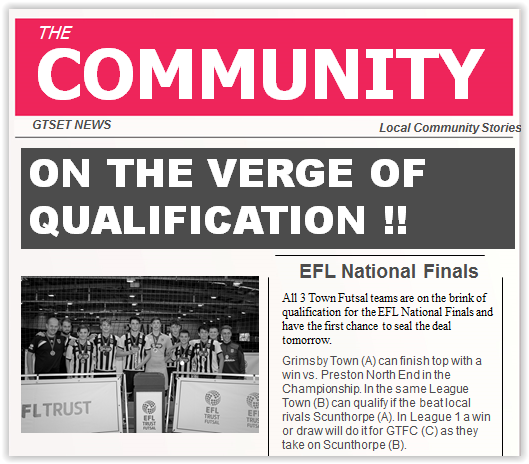 All 3 Town Futsal teams are on the brink of qualification for the EFL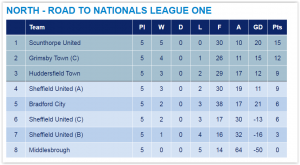 National Finals and have the first chance to seal the deal tomorrow.
Grimsby Town Futsal first (A) and second string (B) head to Sheffield this week knowing if they're both victorious in their respective fixtures, then they will both qualify for the highest tier- EFL Championship National Finals next Month.
Grimsby Town A sit top of the league and play Preston North End in their second to last fixture. The Mariners A beat Preston 16-1 in the reverse fixture earlier in the season and will win the League tomorrow if they are victorious again.
Grimsby Town B, second in the league, face a Scunthorpe A side who must win to keep their qualification campaign alive. If the Iron win it means they go 2 points behind GTFC B with a game in hand. A draw for Town keeps qualification in their own hands and a win will mean Scunthorpe cannot catch them.
Grimsby Town C can take a massive step towards qualification. A win will garuantee a top 3 finish and qualification for the EFL Nationals League 1 and a draw will probably be enough as third and fourth (Huddersfield and Sheff United) are playing each other. However they face a tough task as they take on Scunthorpe B who are currently top of North League one and with a 100% record.
The EFL National Finals are were the qualifiers from North, Central, South West and South East leagues come together in Birmingham and battle it out to be National Champions. Grimsby Town will be looking to retain their title having won the trophy last year.
Follow the boys on twitter: @GTSETFutsal or Facebook: Grimsby Town Futsal Scholarship