Overview
National Citizens' service (NCS) with Grimsby Town Sports and Education Trust (GTSET) will be the summer of your lifetime. You will make new friends and work with other young people that you wouldn't normally meet, to achieve  great things together. NCS is for everyone whether in education, training or not and regardless of income, background or ambitions. NCS takes place out of school time.
NCS can help fast track your future by learning new skills for work and life, it also gives you a framework to show off your skills and experiences. NCS believes that given the respect, tools and opportunities you can change the world around you. NCS gives you the opportunity to work in a team with new friends to plan, pitch for funding and carry out your own social action project to benefit your local area.
Almost half a million hours of social action were completed by participants in 2016, making a real difference to local communities, so come and be part of the NCS movement. Already, in excess of 300,000 young people have experienced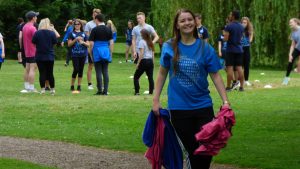 NCS. Once you graduate you become part of the graduate programme where you'll get access to exclusive NCS events and experiences. NCS look great on your CV because it also helps teach the skills employers say they are increasingly looking for in candidates: confidence, teamwork and leadership skills. Also, NCS is recognised by UCAS and will help you deliver a killer personal statement.
This is your chance to develop new skills that will help you get ahead in life. You will learn how to be self-sufficient, living with your new friends and learning how to manage a budget and cooking for yourself and your new friends.