Overview
It's a youth programme like no other!!!
Designed specially for 16 and 17 year old, the NCS experience is aimed at challenging young people, giving them the confidence to make new friends, learn new skills and to provide a platform to use young peoples passion to support the local community.
Grimsby Town Sports and Education Trust pride ourselves on providing the best possible NCS experience for every young person across North East Lincolnshire. No matter what the young persons ambitions are the NCS programme at Grimsby Town Sports and Education Trust is catered for everyone.
GTSET has been delivering the NCS programme since its introduction in 2012 and to date in excess of 3000 young people have reaped the benefits of this outstanding opportunity, whilst making a significant impact on our local community by delivery over 90,000.00 Social Action Project hours.
The Coronavirus has caused disruption and uncertainty on all of our lives, NCS has been running throughout the turmoil to provide young people the platform to give them a sense of purpose, optimism for the future and a feeling of belonging to our local community.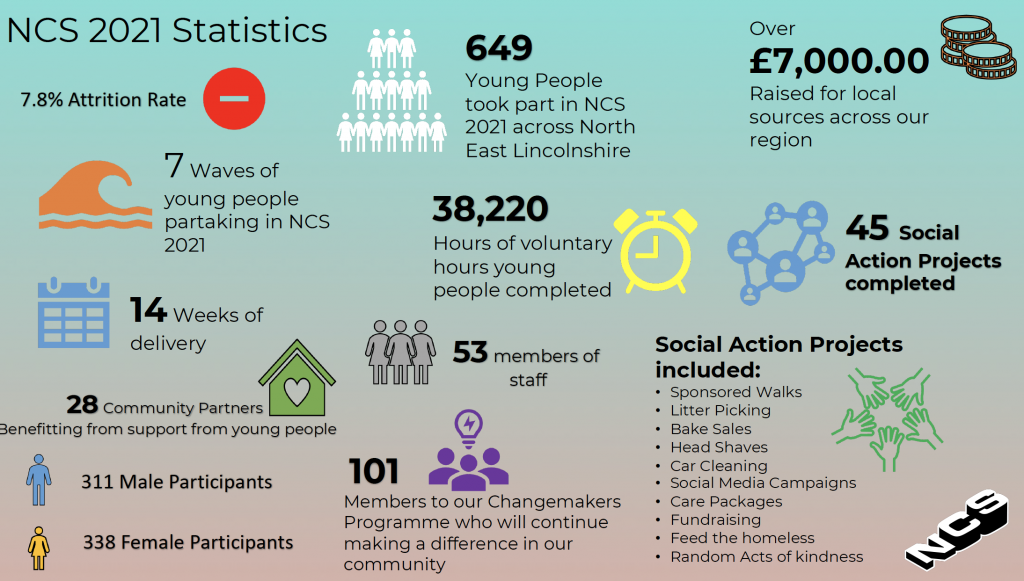 Think long sunny days (probably some wet ones too, who are we kidding), hanging with new mates, having a week of adventures staying away from home that you'll talk about for years, a week of doing some good in your community, and becoming the best version of yourself. What more could you want?
Our programme is delivered over a 2 week period and will cover the following:
You know that buzz you feel when you nail something you thought was near to impossible? When you feel epic? Imagine that, but for every day you're with us. Throw that in with meeting a new crowd (who might end up as mates for life!), taking on challenges together (depending on where you are in the country you might do things like braving new heights on a climbing wall, turn your Sherlock on in a city wide scavenger hunt, or hit the water – and stay afloat! – in a river kayak adventure) and still having some time to recharge and chill. Pretty great, right?
It gets better. You'll also pick up a bunch of skills designed to help you smash the whole 'adulting' thing and live life to the fullest. Want to know how to budget for a food shop? Answer questions with confidence? Present to a room full of people, without freezing up? Leave it to us.
But wait, there's more! You'll take all that you've learned and work together to turn your passions into action. Want to see a positive change in your community and get your voice heard on an issue you care about? Pave the way. You'll have the tools and team to make a lasting impact.
You're going to achieve so much more than you could ever imagine. And we won't leave you empty handed. On top of all the pals, lols, and skills, you'll get a certificate to remind you of all the wins, and then go party with your team! You've got to go out with a bang, right?
So, what are you waiting for? Find your space…
https://wearencs.com/sign-up-to-ncs