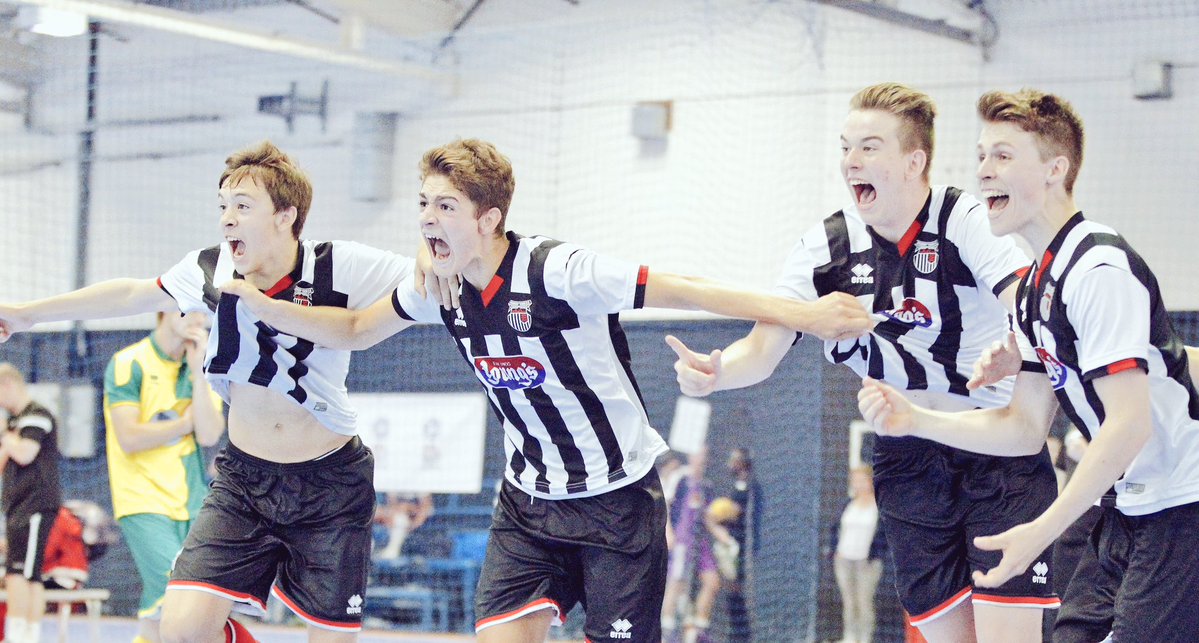 National Finals- Round Ups (L2,L3 and L4)
A week after the League 1 National Finals Triumph, Grimsby Town's other 3 futsal sides were in action. Tuesday would see Grimsby compete in the League 2 National Finals, followed by League 3 and 4 Nationals on Wednesday and Thursday.
League 2
In a team made up of first year scholars Grimsby were drawn in a group B alongside Mansfield, Shrewsbury and Brentford for the League 2 National Finals. They would have to finish in the top 2 to qualify for the quarters.
Town got off to a flying start romping Mansfield 6-1. In their second group, although having the better chances, the Mariners were restricted to a 2-2 draw by Shrewsbury. This meant it would go down to the final game were Shrewsbury, Brentford and Grimsby could all still qualify. Brentford took an early lead but after Grimsby equalised they didn't look back, eventually winning comfortably 4-1 meaning they finished top of the group.
This set a quarter final tie against Championship side Norwich City. Norwich began brightest and soon found themselves 2-0. Coach Mark Westerby adopted the Fly Keeper tactic is they 'extra outfield' player began to open up gaps on the court. Grimsby pulled it back to 2-2 late in the game and this meant the winner would be decided by a penalty shootout. Incredibly the first 4 penalties were saved meaning it was 0-0 after 2 penalties each. Tom McGrath scored and Norwich replied to take the shoot out to sudden death. Dec Scott in goal was the hero saving after Brandon Braithwaite converted from the spot.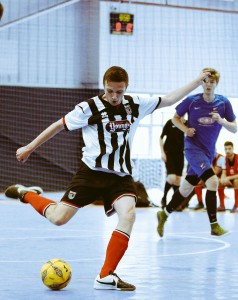 Grimsby faced familiar opposition Scunthorpe United in the semi-final. Grimsby a month earlier had just beaten Scunthorpe to the North East League 2 in a dramatic final day on goal difference.  The Mariners took the lead but were immediately pegged back by the iron. After the break Scunthorpe took the lead, but this time Town pegged them back to set up a dramatic final 5 minutes at 2-2. Scunthorpe got the all-important 3rd goal and hung on to win the game.
A young Grimsby side had been knocked out in the semi-finals to eventual winners Scunthorpe United.
League 3
On Wednesday it was the League 3 team's turn.  In their group was two local rivals Hull and Scunthorpe along with Bristol City.  Grimsby kicked off the tournament against Scunthorpe, in a close game the score line finished level at 2-2. Town narrowly squeezed past Bristol City 2-1 before beating Hull 4-2 in the final game of the group.
The Mariners missed out on top spot by 1 goal meaning they faced Norwich City in the quarter finals. During the League 1 and League 2 Nationals Grimsby had beaten Norwich so there was an extra bit of spice in the game. After going 1-0 Grimsby struggled to control the game and Norwich's direct approach was effective. At half time Norwich had turned the game on it's head completely and were 3-1 up. Grimsby again adopted the Fly Keeper tactic and pulled a goal back. However it wasn't to be and Grimsby were knocked out in the quarter finals, the game finishing up 3-2 to Norwich.
League 4
Grimsby's fourth team entered Birmingham Futsal Arena on Thursday. They would have to overcome Chelsea, Sheffield United, Plymouth and Exeter in their group if they were to advance.
It was the perfect start as they beat Premiership boys Chelsea 2-1 in the opener. Town then overcame Exeter by the same scoreline before coming off the wrong side of a 3-2 scoreline against Sheffield United. Other results meant if Grimsby won their final game they would top a tight group. They did just that, again winning 2-1 this time against Plymouth.
Grimsby faced the runner up from Group A in Bristol City . In a close game a Josh Tidswell brace goal put town in control at 3-1 with only a minute to play. Bristol pulled one back to set up a nervy finish but Town hung on to win 3-2 and qualify for the final.
The Mariners faced Exeter City in the final, the team they had beaten 2-1 in the group stages earlier in the day. The scoreline was to be the same, however unfortunately this time to Exeter, with their goalkeeper picking up man of the match in a game that Grimsby would feel they did enough to win.
Summary
So from the four National Finals Grimsby Town won one, and came close in the other three.
This young squad will be hungry to go to the next level in the forthcoming season!
L1 National Finals- Winners
L2 National Finals- Semi finalists
L3 National Finals- Quarter finalists
L4 National Finals- Runners up