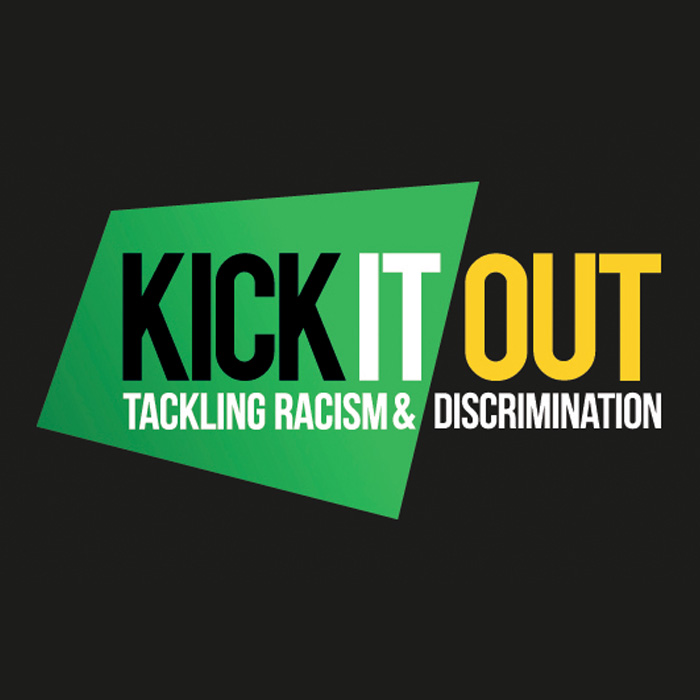 KICK IT OUT – GRIMSBY TOWN SPORTS & EDUCATION TRUST TACKLING DISCRIMINATION IN OUR COMMUNITY 
Grimsby Town Sports &Education Trust strives towards educating the community of North East Lincolnshire with regards to acts of Racism and forms of discrimination.
Grimsby Town Sports & Education Trust week of action took place in the week commencing 22 February 2016 with young people getting involved in donning the banners and badges to kick all forms of racism and discrimination out of the football world. The home fixture against Woking on Saturday 27th February 2016 is designated to the work Kick It Out provides were we welcome Discoveries Empire Colts under 9`s who have been chosen to promote the anti discrimination initiative.
The Trust has engaged with several schools, academies and referral units over the years with some of the most hard to reach areas of deprivation not only in the surrounding areas of  North East Lincolnshire and Lincolnshire but in the United Kingdom. The Trust delivers a 12 week module on "Respect" to young people and young adults in our community.
The aims of the programme are for young people to:
Develop an understanding of respect and how this can be implemented in daily life.
Identify unacceptable behavior and its effect on others.
See situations from other people's perspective.
The learning outcomes of the programme are:
Can understand the consequences of their conduct on others and know that certain types of behaviour are unacceptable.
Appreciate that their behaviour can affect not just themselves but others at school, at home and in the community.
Understanding that certain behaviour can harm and hurt others.
The programmes aims and learning outcomes follow the National Curriculum focusing on PSHE and Citizenship.
If you would like any further information then please contact Adie Merrikin on 01472 696481