"It's a fantastic programme as it encompasses both the academic and practical aspects of sport, and enables all the young people to achieve, succeed and progress"

− Graham Rodger (Head of Scheme)
"What a fantastic opportunity this is for the scholars. Firstly to be part of a professional sports environment and gain experience from many players, top coaches and ex- pros around the club. Then secondly to further their career in the sports industry through the BTEC Extended Diploma. I wish this course was available when I left school"

− Scott Drury (Course Tutor)
"What a fantastic opportunity to improve as a Futsal player but gain a high level of qualifications at the same time. The programme really gives learners the opportunity progress in Futsal with our full time training programme. Futsal has really exploded in this country and will continue to grow, young people should take this opportunity to be part of something very exciting"

− Mark Westerby (Coach)
"I am Coming towards the end of my two years on the course and I think it's the best experience I could of have hoped for at my age. The knowledge I have gained and support from not only the tutor but the community staff, whilst working for the scheme, has given me the opportunity to go to University come September. The Futsal side of the course is unique in itself and it's the closest thing to being a YT with training and playing competitive matches in the league, national tournaments and Soccer AM cup"

− Nath Lambert (Scholar 2012-14)
"I did a year at the local college and I didn't achieve what I thought I would there. I then found this course and it was the best thing I have ever done. I get to play futsal everyday which is a dream in itself and get very good grades so I can achieve my ambition of going to university to be Sports Therapist"

− Alex Hodson-Smith (Scholar 2013-15)
Grimsby Town Futsal Scholarship
Grimsby Town Sports and Education Trust has teamed up with Franklin College to provide a unique and exciting opportunity for 16-19 year old boys with talent in futsal/football and an ambition for a career in sport.
Grimsby Town Sports and Education Trust offers young 16-19 year old sports people the chance to develop in a professional sports program whilst studying their Level 3 Extended Diploma in Sport (worth up to 3 A-Levels). All studying takes place at Blundell Park- home of Grimsby Town Football Club. 
The Futsal Scholarship has been running for 7 years and resembles a Youth Team football apprenticeship with scholars training 4 times a week and competing against other professional club's futsal teams and elite Colleges from across the country.
"The unique aspect of the course is the scholars get the chance to apply their knowledge from the Diploma to enhancing their development as an all round athlete."
VIDEO: Grimsby Town Futsal Scholarship Summary 
Progression…
– Over 100  scholars have graduated from the Level 3 BTEC from 2014-18.
-100% of students were accepted by their first choice University in 2014, 2015 ,2016, 2017, 2018 & 2019
-70% of graduates now attend various Universities across the UK including Loughborough, York, Northumbria, Leeds, Brighton, Sheffield Hallam and South Wales.
-70% of students achieved DDM or above between 2014-2018.
– Over seven members of Grimsby Town U19s squad now attend Loughborough University and represent the University at Futsal.
GTSET U19s Futsal teams…
Grimsby Town U19s have 4 teams competing in the EFL Futsal North league and AOC from November until May, there are several National trophies up for grabs such as the U19 EFL Futsal Cup and U19 EFL Trust National Playoffs held at the prestigious at St Georges Park.
Grimsby Town have also built up and excellent relationship with the FA centre of excellence.  Grimsby U19s have had over 10 players selected to represent the Elite Development squad linked to the England U19s. Two players currently represent England U21s from the GTSET program.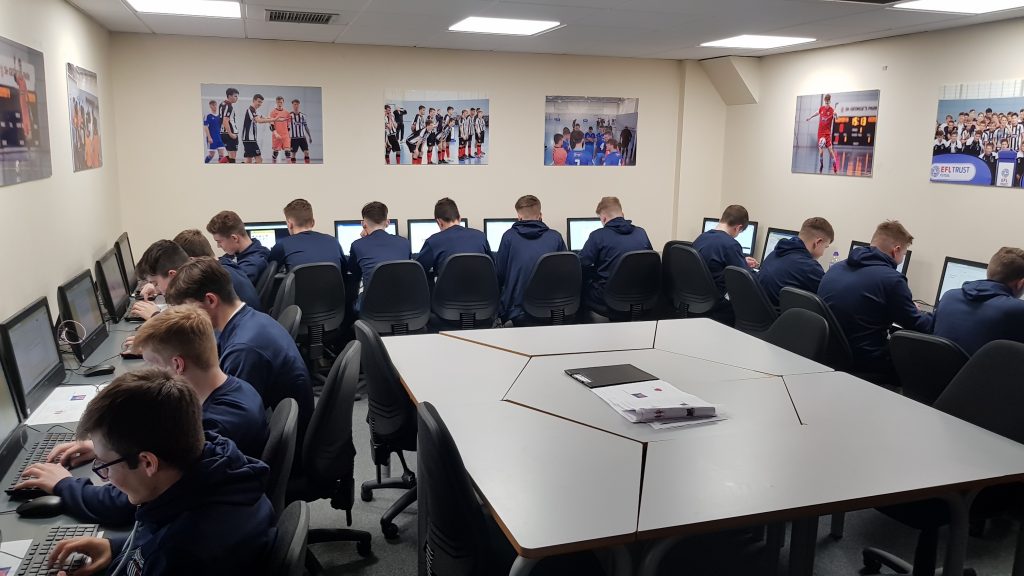 One of two classrooms at Blundell Park
Interested in this course?
Entry requirements: 4 GCSEs 4-9 including Maths or English.
or a Level 2 BTEC with 4-9 in Maths or English.
Experience playing Futsal or Football at grass roots or above.
To request more information or to apply for the course please enter your details below…
Please ensure if you're under 16 years of age you gain your parents' permission to submit your details. Please refer to our GDPR policy for more information.