Season 2 of the Grimsby Town Sports and Education Trust U15/16 Futsal League 2019 played in partnership with Franklin College played on Tuesday evenings.
#GTFUT19 #ThisTownsFutsal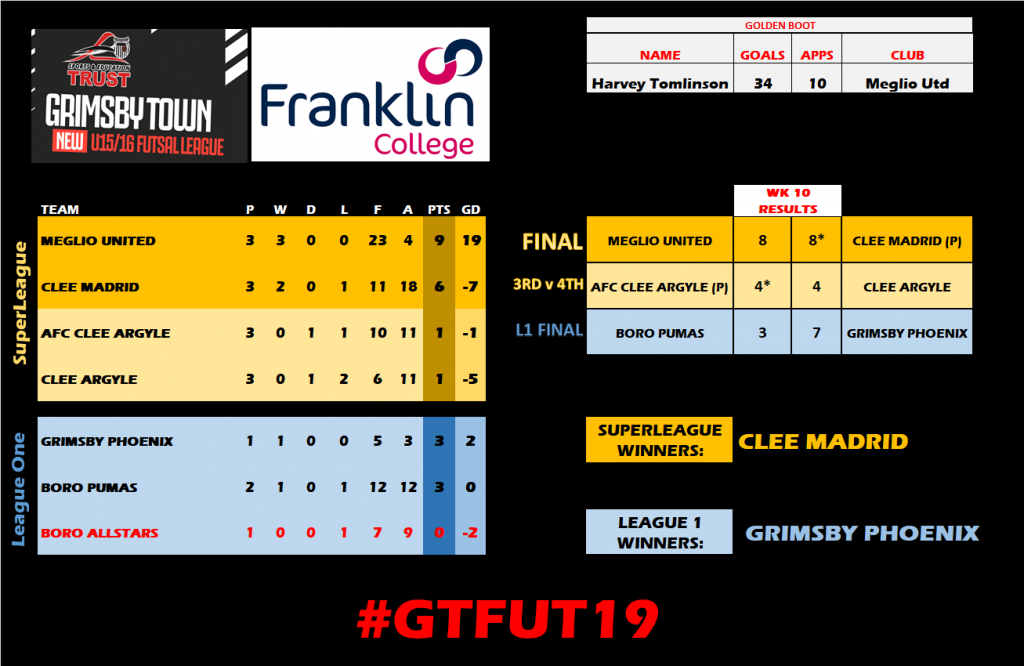 PLAYOFF FINALS WEEK:
The climax of the second GTSET Futsal U15/16 did not disappoint! In the 3 fixtures there were 24 goals and 2 penalty shoot outs to decide the teams final rankings. First up was an all Clee derby in the Superleague 3rd v 4th playoff. After 3 league games and another 36 minutes of futsal the teams could not be separated! In the end AFC Clee Argyle won by a single penalty to finish 3rd just in front of Clee Argyle in 4th.
Next up was the League 1 final. The first half was a close affair however after the interval Grimsby Phoenix pulled clear of Boro Pumas. They kept possession well during the last 5 minutes of the stop clock and Boro Pumas were not able to claw their way back into the game. The tie eventual finishing 7-3 to Phoenix to see them crowned League 1 winners- I am sure they will have their eye on the Superleague title next year with only them only been an U15 side.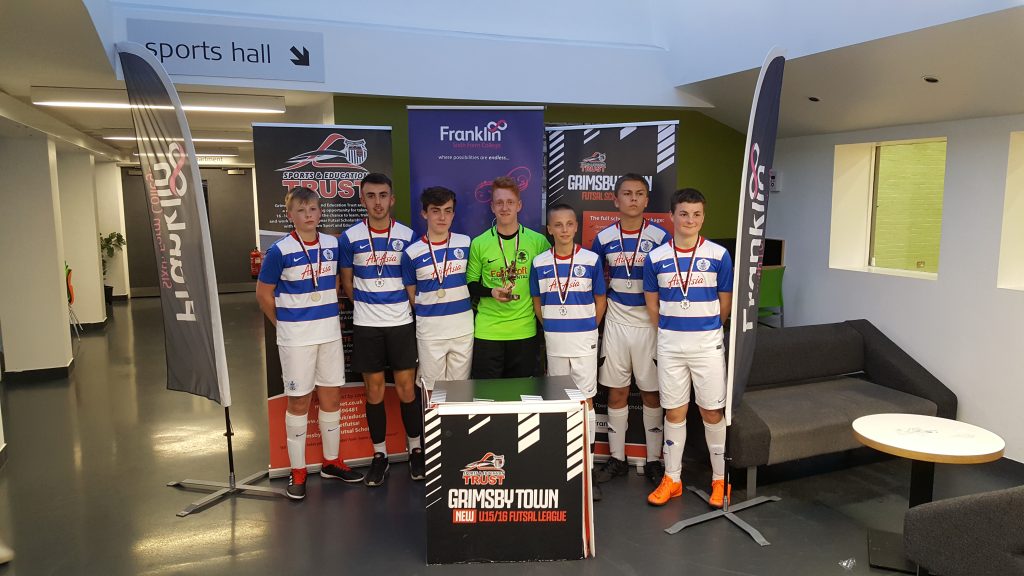 Finally to take to court was the main event and the much anticipated SuperLeague Playoff final. In front of around 30 spectators the tie was a spectacle for this Town's young and blossoming futsal potential. The game swung backwards and forwards and was contested superbly right up until the final whistle. Twice Meglio secured a 2 goal margin in the second half but the never say die attitude of Clee Town Madrid saw them draw level both times, the final equaliser coming 20 seconds from the final whistle to make the scoreline finish 8-8. Before the penalty shoot out both teams received a standing ovation from the parents and spectators who had just witnessed a treat of a game! Of course 3 penalties by each side could not separate these two teams as that wasn't dramatic enough- so we moved into sudden death. The 6th round of penalties eventually saw a miss from Meglio meaning a final successful spot kick saw Clee Town Madrid crowned SuperLeague Champions 2018/19.
You can check out the whole journey from week 1 to the final below.
Week 1:
An action packed opening set of fixtures saw 42 goals scored, 3 teams pick up maximum points, 2 teams cancel each other out and finally 3 teams lose their first game.
First on court was last years champions AFC Clee Argyle facing new boys Meglio United, fresh from the World Championships. The game was close up until the final 6 minutes which saw Meglio score 5 times to take the score up to 11-3, Harvey Tomlinson scoring 7 goals to gain the MOM award. Next on court was the two other Clee sides and in a game that was contested right until the final kick, Clee Madrid managed to come off the right side of a 3-2 scoreline. In the game of the day Boro Pumas welcomed Grimsby Pheonix into the league with an absolute thriller. Despite leading 5-2 in the second half Grimsby Pheonix surrendered the lead to Boro Pumas who hit back in the last minute to take a point from a 6-6 draw. Last on court saw two of the younger teams battle it out as Boro 4Matic opened their account in the league against the experiences Boro Allstars. In the end the experience of the Allstars saw them run out comfortable 10-1 winners with Kiaren Perry and Maroos Sova both scoring hatricks.
Week 2:
Week 2 continued the trend of week one with even more goals scored over the 4 fixtures. A total of 46 goals were netted with 3 sides picking up a win and 2 teams a point a piece. In two of the four games the game was won by a single goal!
Boro Pumas defeated Clee Argyle by a single goal winning 6-5. In equally as intense of a game AFC Clee Argyle picked up their first points of the campaign knocking early table leaders Boro Allstars off the top. Clee Madrid became the only team to maintain a 100% record by confidently beating Boro 4matic. In the game of the day new boys Grimsby Pheonix three times pegged by Meglio Utd to draw 5-5 and gain a point.
The table now sees Clee Madrid go top, Meglio Utd remain second on goal difference just above Boro Pumas in 3rd. Boro Allstars and AFC Clee Argyle occupy 4th and 5th again only separated by goal difference. In 6th but still unbeaten are Grimsby Pheonix followed by Clee Argyle and Boro 4Matic who are yet to pick up their first points.
Week 3:
Week 3 saw only 3 out of 4 fixtures take place with Meglio Utd and Boro 4Matic seeing their fixture re-arranged for a later date. In the clash of the day unbeaten Boro Pumas and Clee Madrid went head to head. Clee Madrid just edged an excellent tie 7-6 thanks to 4 goals from Kyran Foster. Boro Allstars dropped out of the SuperLeague place as they lost ground to a resurgent Clee Argyle. Last years' Champions, AFC Clee Argyle took advantage of Meglio having the week and took up second spot with a fine victory over Grimsby Pheonix who, despite and excellent point last week against Meglio, sit second bottom.
Week 4
Meglio returned to action after missing last week and beat high flying Boro Pumas by a 3-goal margin 10-7, aided by 7 goals from the league's top scorer Tomlinson. Clee Argyle moved up into the SuperLeague playoff place with a fine 9-1 victory over Boro 4Matic. It more much closes between Grimsby Phoenix and Boro Allstars however, the came eventually settled by 1 goal in favour of Phoenix seeing them win 4-3 and leapfrog Allstars. In the Clee derby Clee Madrid saw their perfect start just eneded by AFC Clee Argyle. In a game that looked to be heading for a draw, a late goal saw AFC Clee Argyle snatch all 3 points and continue their charge up the table into second place.
Week 5
Six out of the 8 teams were in action during week 5. Boro Allstars leapfrogged Boro Pumas into 5th position just outside the superleague playoff places with an impressive 8-4 victory and their first win since week 1. Clee Argyle continued their surge up the table and have a 3 point cushion in 4th place as they beat Grimsby Pheonix 4-2. The top two then faced each other up at Meglio moved into second beating Clee Madrid 4-1, the loss saw Clee Madrid drop to 3rd position.
Week 6
Week 6 decided all but 1 place on who would be in the SuperLeague and League 1 after the final set of fixtures next week. Wins for the top 3 AFC Clee Argyle, Clee Madrid and Meglio saw them guarantee their place in the SuperLeague in week 8. A win for Boro Pumas (5th) saw them close the gap on Clee Argyle in 4th to just 2 points and Boro Pumas will be looking to leap frog Clee Argyle into the final SuperLeague spot next week. Both however have tough games, if Clee Argyle fail to beat Meglio and Pumas can beat AFC Clee Argyle they will nick 4th spot, a draw for Clee Argyle might well be enough. Waiting to take advantage if both slip up are Boro Allstars, they face a tough ask against Clee Madrid but a win and a loss for both Boro Pumas and Clee Argyle will see goal difference come into play between Clee Argyle and Allstars. Losses for Grimsby Pheonix and Boro 4Matic means come week 8 they will be battling it out in League 1.
Week 7
Week 7 saw the league keep pretty much the same shape as the previous week and unfortunately neither Boro Allstars or Boro Pumas could break into the top 4 SuperLeague places despite some heroic efforts. However their were some suprise results as Clee Argyle beat Meglio United 8-1 to secure their spot in the top 4. This meant despite Boro Allstars impressive 8-2 victory vs Clee Madrid they couldn't catch Clee Argyle. AFC Clee Argyle held on to top spot by drawing with Boro Pumas 8-8 in the game of the day. The final game saw Pheonix pick up a 3-0 win as Boro 4Matic forfeited the tie.
The League will now split into two in week 8 as the top 4 enter the Superleague and the bottom 4 branch off into league 1.
Week 8
After the completion of the 7th set of fixtures the league split into 2 for week 8. In the SuperLeague the top 2 from the previous league met in a thriller, AFC Clee Argyle defeated by Meglio United 6-2. Clee Madrid entertained Clee Argyle in the second fixture a close game which saw Madrid narrowly win 4-3.
In League 1 the 2 Boro's went head to head as Allstar collided with Pumas. In a game that had twists and turns it was the Pumas who came off the right side of a 9-7 scoreline. Pumas couldn't take this form into their second game however and were defeated 5-3 by Grimsby Phenoix who now lead the pack on goal difference.

Week 9
Week 9 was the conclusion of the Super League. The two Clee Argyle teams faced each other first and couldn't be separated with the score ending 2-2. This meant if Clee Madrid beat AFC Clee Argyle they would be guaranteed a place in the Super League final and they did so- coming off the right side of a 4-3 scoreline. Meglio were next to book their place in the Super League final by beating Clee Argyle 5-1. The final contest was a bit of a dress rehearsal for the final and would decided little more than top spot. Meglio won 12-1 but I am sure Clee Madrid will make it a closer affair come next week's final!
If you're in year 10-11 and are looking at options in the game after leaving school, visit our Futsal Scholarship page.
#ThisTownsFutsal.