Finals Week (Week 4):
FINALS WEEK
Last Thursday saw the Final fixtures of the mini Futsal League, during the night a 3rd vs 4th playoff was played followed by the final. The two teams involved in the 3rd vs 4th playoff between Waltham and Healing A, Waltham ending up 6-3 winners to finish in 3rd place. The final was held between Grimsby Phoenix and Healing B, with a dominating display being shown by Grimsby Phoenix to win the final and claim the league title for themselves. GTFC player Harry Clifton came down to present the trophy to Grimsby Phoenix and to congratulate the team on their league win.
We're looking forward to the league restarting after Christmas.
Week 3: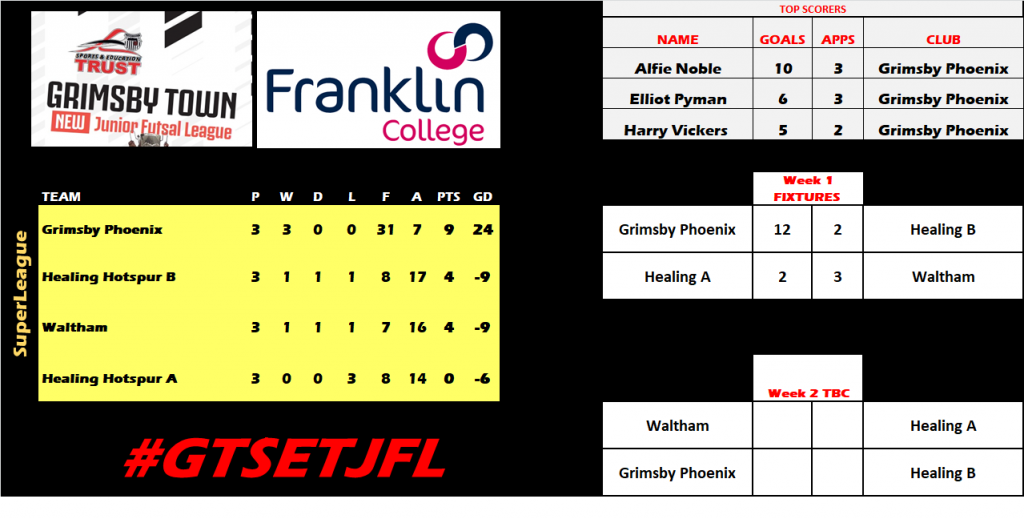 Week 3 saw the final league fixtures in the mini league, Grimsby Phoenix started of the night with a 12-2 victory over Healing B allowing them to finish top of the table with 3 wins from 3. The second game of the night was a close encounter between Healing A and Waltham, the scoreline ended with a 3-2 win to Waltham. The final league table resulted in Grimsby Phoenix finishing 1st, Healing B finishing 2nd on goals scored, Waltham finishing 3rd and Healing A finishing in 4th place.
Next fixtures are a final and a 3rd and 4th placed playoff.
3rd and 4th playoff: Waltham vs Healing A
Final: Grimsby Phoenix vs Healing B
Week 2: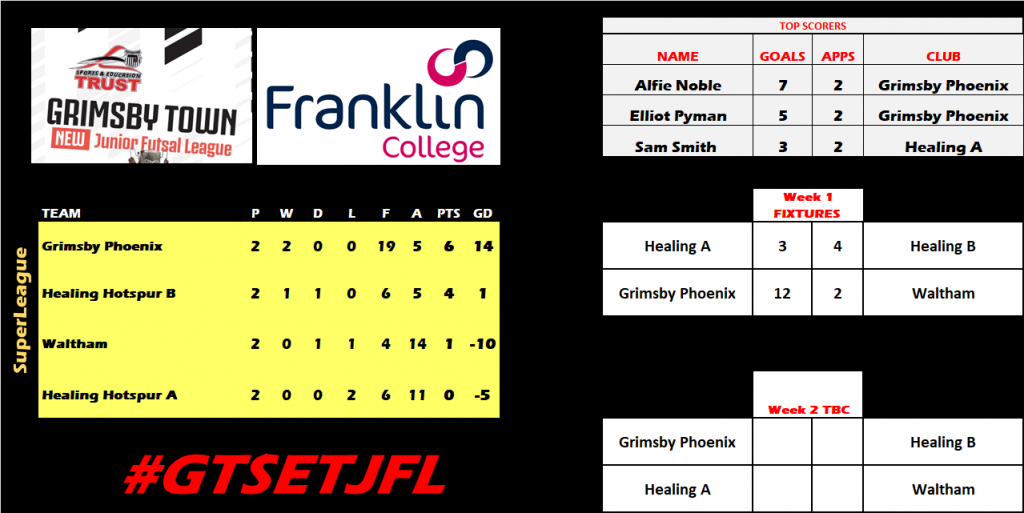 Week 2 saw both Healing teams play each other for the first game of the night, both teams had a close match and played well but Healing B came out victorious with a 4-3 win to stay unbeaten in the league. The second game of the night saw Grimsby Phoenix take on Waltham, Grimsby Phoenix took 2 wins from 2 with a dominating display with an end result of 12-2.
Week 1: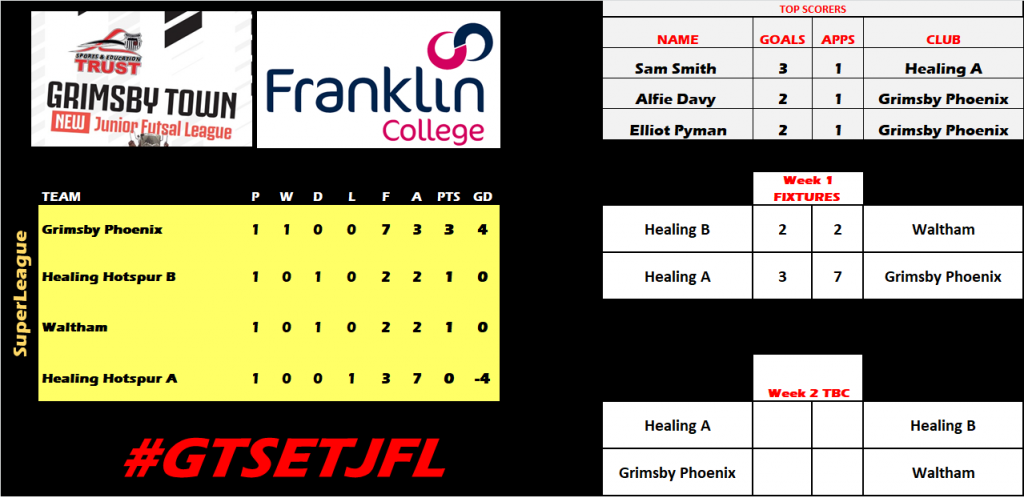 Week 1 saw the launch of the annual U15/16 futsal. The first game of the night was Healing B vs Waltham which ended all square in a 2-2 scoreline, both teams sharing a point. The second game of the night was between Healing A vs Grimsby Phoenix, the final result was 7-3 to Grimsby Phoenix.

Roll on week 2.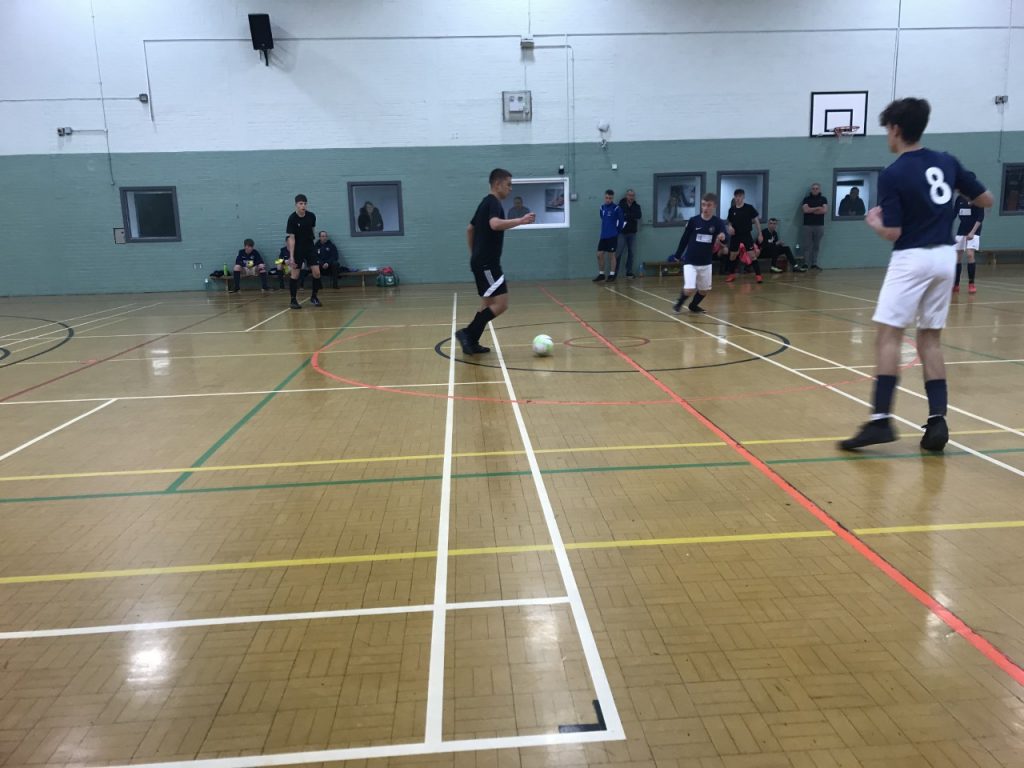 You can still apply!
We are constantly taking applications to join our league, see below.
-£20 a fixture
-36 minutes of futsal per week.
– 2 x experienced Futsal referees.
-1 adult and junior ticket for all players in your team for 5 Grimsby Town home games in the 2019/20 season (exc cup games).
– League winners parade at a Grimsby Town FC game.
-Updated website with latest scores,fixtures and tables www.gtset.co.uk/futsal-leagues/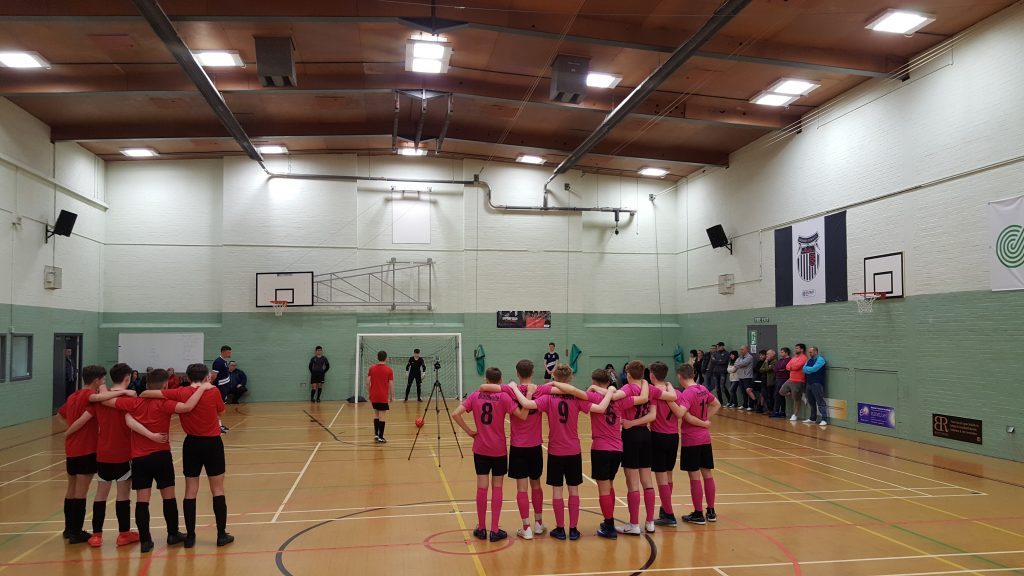 To request more information or to enter a side please contact us here.
Or email Mark@Gtset.co.uk (01472 696481)