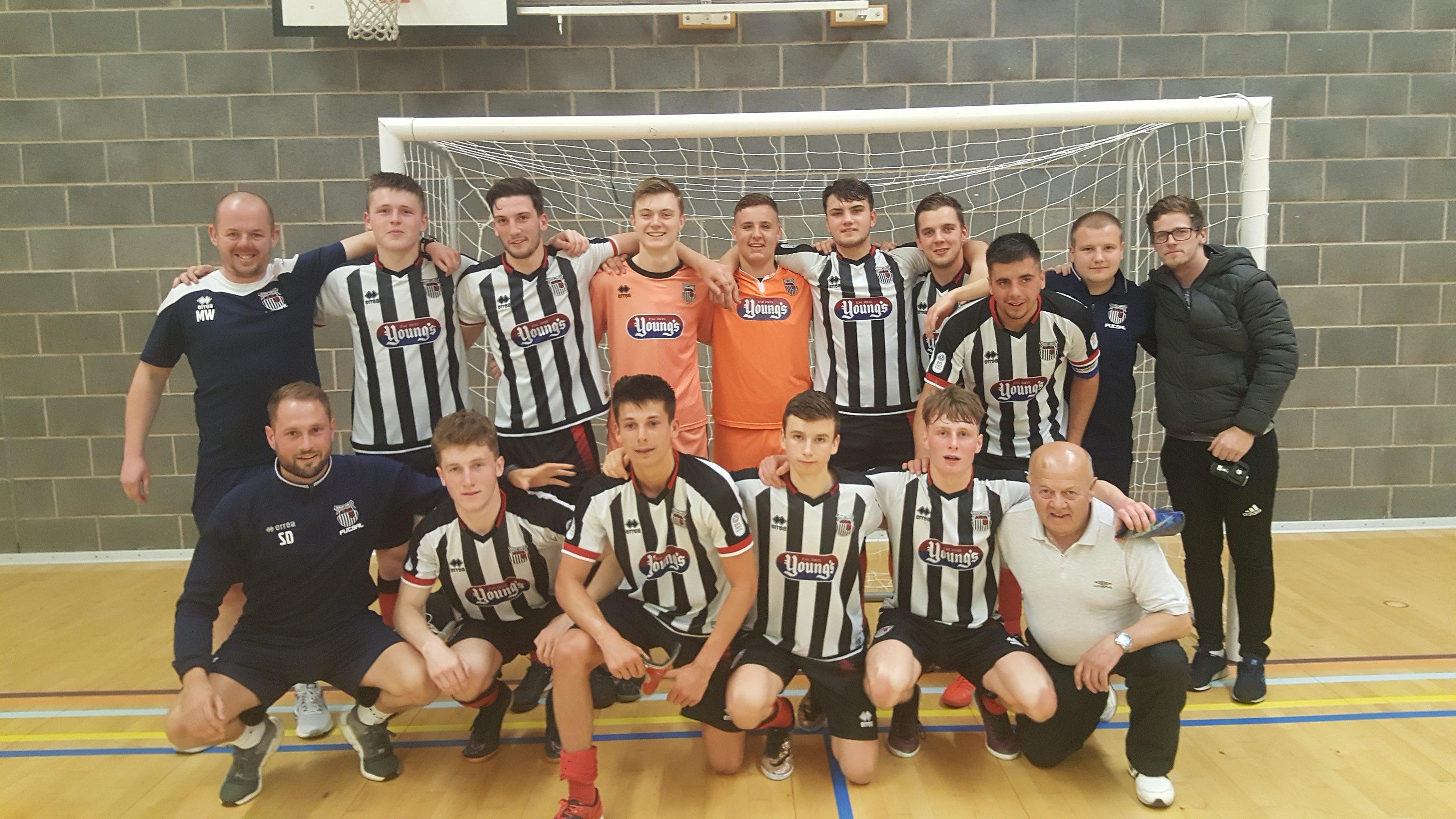 Grimsby Town FC Futsal continued their incredible debut season in the FA Futsal Cup by overcoming another highly ranked opponent away from home. In the previous round they beat Division 1 South Champions Sussex on their own patch and had an equally as tough task this round against Division 1 North Champions and unbeaten Durham.
Appearing the in the FA Futsal Cup quarter final for the first time Grimsby started the game nervously and Durham had a host of early chances. However once the Mariner's side settled the game became more even. It remained deadlocked up until the 12 minute mark when Durham took the lead thanks to an own goal from the unfortunate Boswell after a good ball whipped into the corridor of uncertainty from the left. Grimsby responded well but were caught on the counter 4 minutes later when Taylor appeared to be dispossessed illegally while in the Durham third leaving a 3v1 situation which Durham didn't turn down. Town finished the half positively with a few chances just evading a final touch at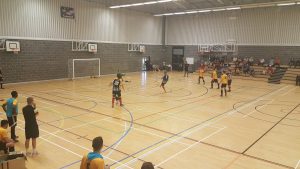 far post, nonetheless the Black and Whites went into the break 2-0 down and with it all to do second half.
The next goal would prove pivotal and it was to go Town's way. Not before Lait in net and Taylor had made a couple of key blocks to deny Durham a third goal. Indeed the Town revival would be to come through a Lait and Taylor combination . Having made a save 1v1 Lait got to the rebound first and drove into the Durham half before sliding in Taylor who slotted calmly home- game on!
It was all Town at this point and Durham were clearly rattled giving away a few fouls which saw the count chalking up against them. The second goal came 5 minutes into second half when Blunden chipped the ball into Marshall who delightfullyf flicked and set up Meiwald to fire home to make it 2-2. Boswell could have made it 3-2 just second later but a last ditch block kept the scores level.
The game settled slightly, but this was to be the calm before the storm. With 7 minutes lefts on the clock Town went in front for the first time in the game. Taylor again drove forward and offloaded to Burke who teed up Usher at far post to tap into the gaping goal. Durham's earlier fouls would come back to haunt them as with just under 5 minutes left the home side c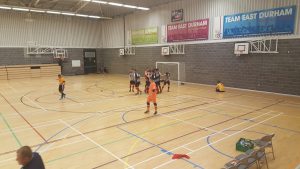 ommitted their 6th foul and Grimsby had a chance from the 10m spot. A chance that skipper Burrows slotted home calmly to give Town a bit of breathing space. Lait was called into action again with a superb 1 handed save to keep the deficit at two goals entering the last 3 minutes.
Then the game exploded into life. Taylor went down under a hefty tackle and a Durham winger was shown his marching orders for a second yellow. In futsal it is worth reminding you that a red card lasts for 2 minutes or until another goal is scored before the sent off player can be replaced by a substitute. Burrows had the chance from the 10m spot again immediately but this time fired wide meaning Durham would continue with 4 player for the time been. Credit to Durham they made Grimsby panic with a high press and even scored a goal with 4 men with around 1.10m left on the stop clock setting up a nail biting finish. Both teams back up to 5 men, both teams now on 5 fouls each, the score at 4-3 to Grimsby with just over a minute of play left.
The clock seemed to take an age to count down to zero and just when Town thought they were there with 3 seconds left on the clock Boswell was caught in possession and Durham had one final chance to equalise!! However a square pass was intercepted by Lait's big toe denying an almost certain equaliser for Durham. At this moment the buzzer sounded sending Grimsby into the Semi Finals of the FA Futsal Cup where they will play London Helvecia on Saturday 16th June at 10am at Wolvehampton University.
You can watch highlights of the epic 4-3 quarter final victory over Durham below.
Don't forget if you're in Y11 at school and want to be part of the U19 Futsal team you can apply on the Futsal scholarship page.