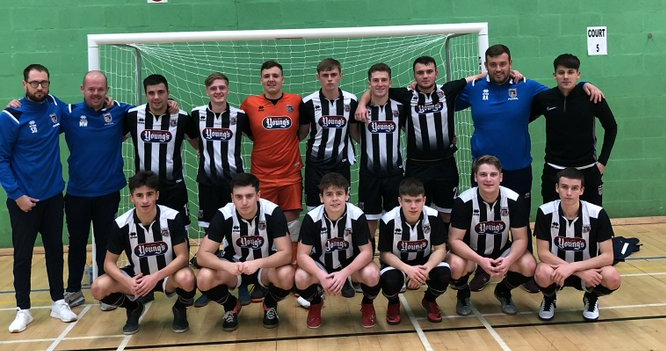 Grimsby Town FC Futsal men's senior side began their FA Futsal Cup campaign before Christmas successfully progressing through 2 difficult qualifying rounds to set alight their FA Cup dream.
Just like it's parent sport, Football, Futsal has it's own version of the famous domestic tournament- the FA Cup.
As Grimsby Town FC Futsal do not have a full time side that playing in the National Futsal Series (NFS), futsal's equivalent to the Premier League and Championship, Town are classed as a 'non league side' and have to start at the very first round of the tournament. Sides in the NFS pyramid will join the competition at the later stages just like in football.
Grimsby beat Lincoln Uni 3-2 to make it to the final qualifying round.
Grimsby Town Futsal has a full time Under 19s program as part of it's post 16 education provisions, the men's side is made up of these players plus players that have graduated from the U19s side- many have been to University, played higher level futsal and returned to the Town.
FA Cup Qualification Rounds:
Qualifying Round 1- GTFC 9-0 Lincoln Development
Qualifying Round 2- GTFC 5-2 Grantham Town Town
Qualifying Round 3- GTFC 3-2 Lincoln University
Grimsby Town FC Futsal have qualified for the first round proper of the FA Futsal Cup. The draw for round one will take place later this week with NFS not yet in the competition.
If you are in year 10 or 11 and are interested in joining Grimsby Town Sports and Education Trust Futsal Scholarship combined Level 3 BTEC in Sport in partnership with Franklin College then more information can be found here.
#ThisTownsFutsal